CORPORATE SOCIAL RESPONSIBILITY
We are responsible for our natural environment and community
Our organization is socially responsible, which means that we operate balancing the care for our community and natural environment. This pledge is not an empty marketing slogan, but our clear vision of a better world, which we support by development and implementation of well thought action plans. The following statements demonstrate the results of our actions:

KPI management indicators - ENVIRONMENTAL PROTECTION
Beczkopol Sp. z o.o. has set important goals of developing and implementing sustainable economic policies with respect to the natural environment. Constantly improving our Environmental Management System by tracking progress in science and technology, we strive to apply the latest environmentally friendly solutions in the field of drum production.
The main objectives of Beczkopol in the field of environmental protection are:
production and delivery of fully recyclable and environmentally friendly metal packaging.
systematic reduction of the harmful impact of production activities on the environment in accordance with applicable law.
We implement the Environmental Protection Policy by:
improvement of technological processes and replacement of the machine park in order to reduce the harmful impact on the natural environment, reduce the consumption of energy and electricity, plastic packaging.
waste management by segregating production waste and recycling.
use of materials for the production of drums that minimize environmental pollution.
conducting training of managers and employees on environmental awareness, as well as promoting environmentally friendly practices and behaviors, encouraging employees to support the Environmental Policy and a sense of responsibility for its implementation.
supervising the proper storage of hazardous chemicals used in the production process.
conduct in accordance with applicable environmental protection laws, standards, and internal procedures of the company.
implementation of Environmental Management System standards in accordance with the standard ISO 14001:2015.
Environmental policy is an integral part of our business contributing to reinforcement of our high market position and a good name of Beczkopol. It increases credibility with our business partners and customers, who would not only associate our product with the highest quality, but also with care for the natural environment.


KPI management indicators - HR
At Beczkopol, we know that our most valuable resources are our people. The Human Resources Department is responsible for talent acquisition, onboarding, development and retention.
We strive to create a culture of open dialogue and partnership with our employees, ensuring that we provide a wide range of career development and advancement opportunities, while achieving strategic business goals.
We understand human resources management as:
conducting strategic workforce planning.
planning of human resources activities by increasing professional development opportunities of current employees with ongoing training and advancement paths.
creating a high level integrity and professional employee culture,  to meet organization's strategic objectives.
recruitment activities to acquire the most competent and qualified talent in the external market as well as within the internal candidates pool.
onboarding of new employees to ensure a seamless integration with the organisation.
providing ongoing feedback, motivation and performance evaluation.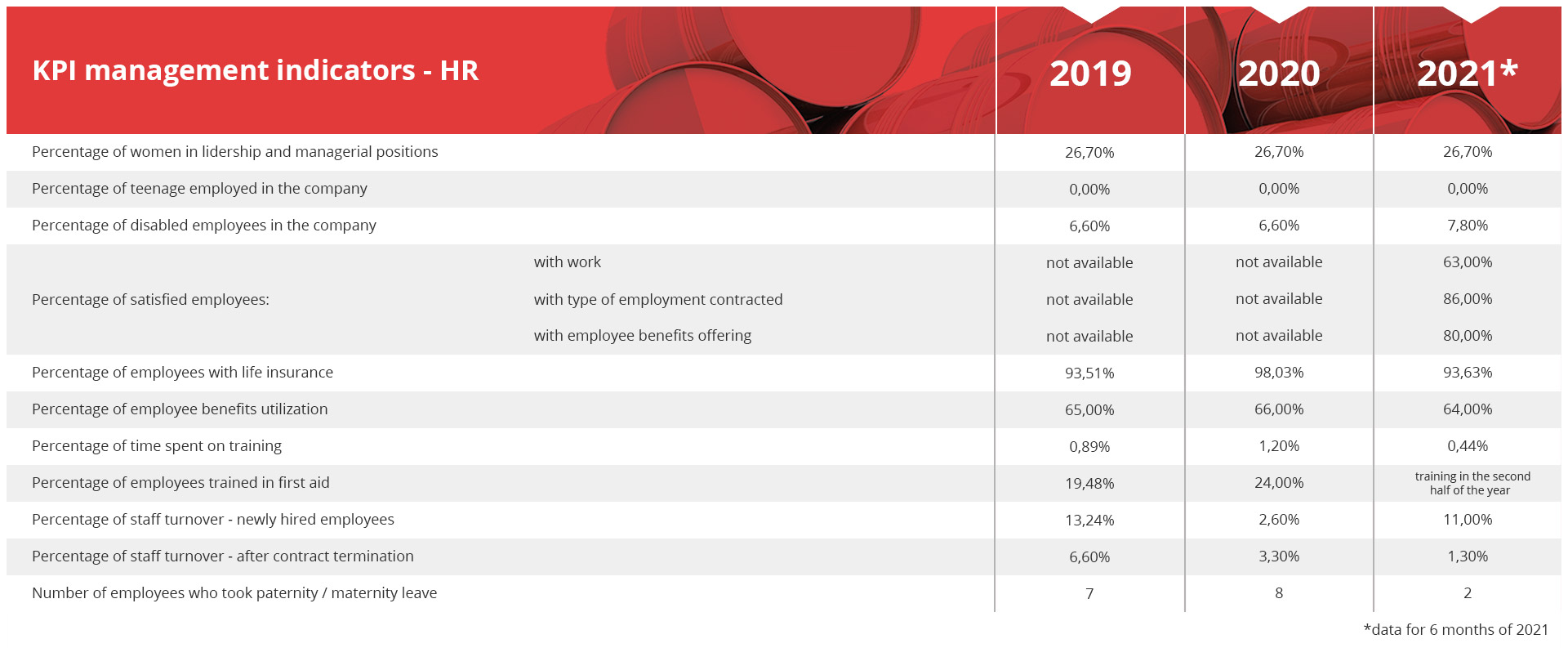 KPI management indicators - OCCUPATIONAL HEALTH AND SAFETY
The guarantee of the company's success is to provide our employees with safe and hygienic working conditions, while maintaining the efficiency of production. Therefore, the primary goal of Beczkopol is to strive for continuous improvement of processes in this area.
The following objectives outline our commitment to OHS standards:
striving to completely reduce the number of accidents at work and potential accidents,
limiting the exposure of employees to harmful working environment,
elimination of hazards at source,
designing safe workplaces and technological processes.
We achieve our goals by:
compliance with legal requirements related to occupational health and safety,
maintaining and continuous improvement of the effectiveness of occupational health and safety activities,
systematic reevaluation of working conditions,
building an organization based on a safety culture,
involvement of employees in shaping safe and hygienic working conditions,
continuous improvement of the qualifications of employees,
ongoing training to provide employees with information on how to protect against threats,
providing financial resources for the implementation of tasks affecting the improvement of safety,
the involvement of top management,
occupational risk management,
initiating, developing and promoting occupational health and safety, as well as ergonomics in the workplace.

KPI management indicators - ETHICS
We strive to create working conditions in which relationships between people are based on integrity, honesty and cooperation. To meet this task, we have created a code of conduct. We require all our employees, regardless of the level, to understand and adhere to this code:
we comply with national and international regulations and laws, which are reflected in our internal policies.
we act reliably and responsibly in mutual relations with clients, contractors and public authorities.  We keep both, the obligations enshrined in the contracts, and the verbal promises made to our customers,  suppliers, and social partners.
we comply with all applicable laws regarding unfair competition.
we oppose corruption and extortion. We do not offer or accept bribes or other financial or personal benefits; we do not establish contacts with companies with a dubious reputation.
we have put processes in place to maintain data secrecy and confidentiality of our employees and customers.
we have a policy of avoiding conflicts of interest, i.e. our employees may participate in legitimate financial businesses and other activities outside of work. However, these activities must always be lawful and not interfere with employees' obligations to the company.
we maintain transparent, reliable and honest information and reporting policy.
we keep reliable documentation that prevents unauthorized, unregistered or incorrectly recorded transactions and enables the preparation of financial statements on the basis of internationally established accounting standards.
we respect the rights of local residents and cooperate with regional governments.
we train and motivate employees to perform their duties in a manner consistent with the principles of ethics.
we continue to improve the application of the Business Ethics Policy.

KPI management indicators - SUPPLIERS
Purchasing is part of the strategic operational areas of our company. A responsible and sustainable approach to this area contributes directly to the implementation of the adopted Sustainable Development Goals.
Our cooperation with Suppliers is based on raising standards in the area of production, employee safety, maintenance, process safety, transport, and all other areas where we deal with purchasing processes.
We have created a Supplier Code of Conduct that sets out our values in the fields of human rights, labour rights, discrimination, safe working environment, environmental protection and corruption.
Suppliers are systematically assessed in terms of quality and environmental management standards.